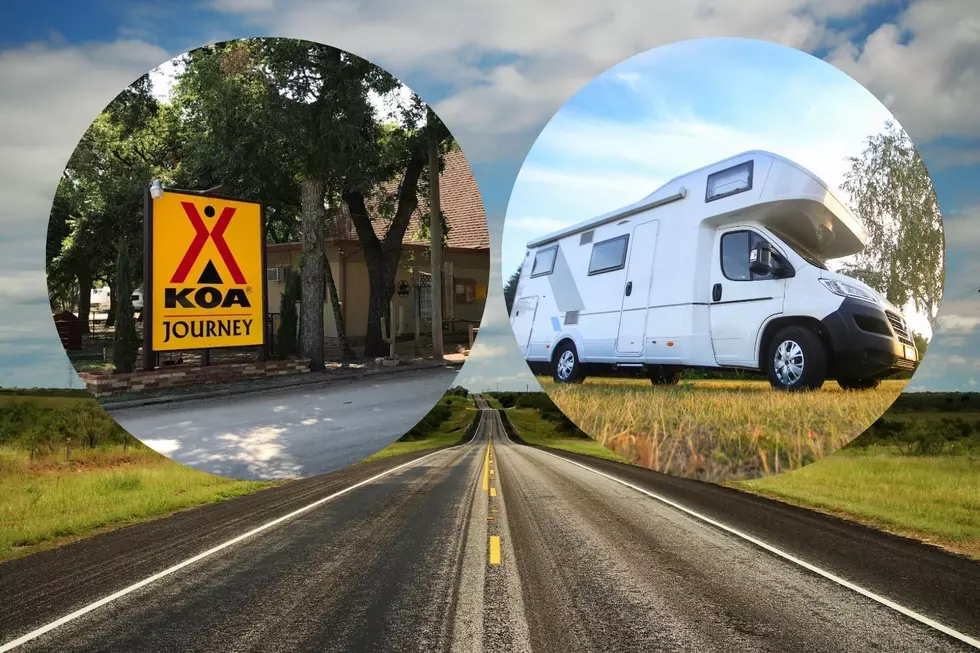 Top 7 RV Parks and Campgrounds That Are Close to Abilene
Photo: Abilene KOA Journey/Facebook/Canva
We're knee-deep in the summer months and Texas is traveling. Just this past weekend coming back from Lubbock on a Sunday afternoon I can tell you, that the highways of Texas are crowded. Folks are on the move. Why not? There's so much of the Lone Star State to go do and explore and this is a great (but hot) time of year.
Recreational Vehicles or more commonly known just as RVs are becoming more and more popular. When you can blend the conveniences of home with camping in the outdoors, that's a great way to take in Texas. Whether you have your own RV or you're renting, you've got to have a place to hook up. Driving down the highway I also noticed plenty of packed RV parks and campgrounds.
Some may just be passing through our fair city of Abilene, others may have family or friends coming in, and being close to Abilene is a plus. I've got you covered with the top RV parks and campgrounds close to Abilene.
LOOK: TOP 7 RV PARKS AND CAMPGROUNDS CLOSE TO ABILENE
4851 W. Stamford St. - Abilene
Make reservations and ask any questions on the company's Abilene website.
---
6195 E. Hwy 80 - Abilene
Take a look around the park and contact the office with questions on their website.
---
12445 CR 108 N. - Abilene
Make reservations and take a look at reviews online.
---
695 E. Stamford St. - Abilene
Learn about the amenities and make a reservation through their website.
---
1113 S. Access Rd. - Clyde, Texas
Check out everything they offer plus make reservations through their website.
---
2398 FM 1235 N. - Merkel, Texas
Check availability and view pictures on the company's website.
---
50 Hopkins Rd. - Sweetwater, Texas
Learn about the amenities, attractions, and reserve online.
There's certainly plenty to choose from. Whether you enjoy more of a community atmosphere or you like being out away from everyone else, there's a little something for everybody. The important thing is that you're out, enjoying Texas and doing what you love. I think we all can get behind something like that.
So, if you're able to rent an RV or you're already set, hit the Texas highways and do some exploring and make some memories with friends and family. RVs can really transform the way you travel, that's for sure. Keep scrolling and check out these RV restoration photos, impressive.
Pictures at American RV Restoration
The Longview, TX business American RV Restoration is being featured on the A&E show 'Shipping Wars', here is some of the work they have done in the past.