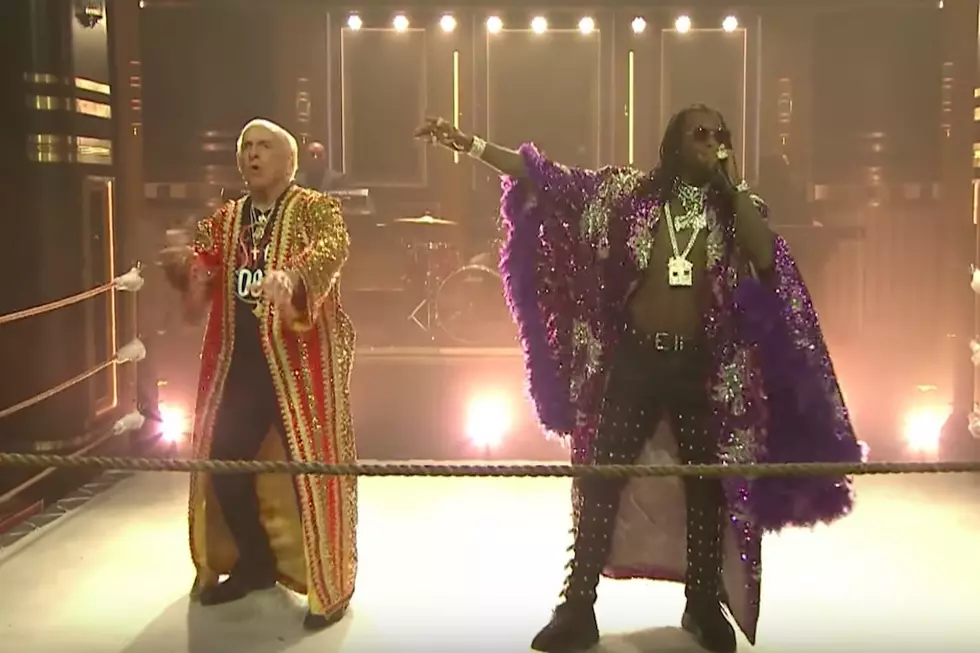 Watch Offset Bring Out Ric Flair and Metro Boomin to Perform "Ric Flair Drip" on 'The Tonight Show'
The Tonight Show Starring Jimmy Fallon via YouTube
Offset has been keeping plenty busy since Cardi B revealed that her and the Migos member are expecting a child, and he recently took to The Tonight Show stage with Metro Boomin. The "Um Yea" rapper performed his Without Warning hit record, "Ric Flair Drip," on the late night talk show, bringing out Ric Flair, himself, as a surprise guest.
While The Roots backed him up, Offset stands on stage, which is built in the shape of a wrestling ring. As he goes through the catchy track, with the song's producer, Metro Boomin, standing off to the side, Flair pops up on stage in one of his signature robes to join the Atlanta native for the ultimate performance.
This is far from the first time that Offset and Ric Flair have joined forces to entertain fans, as the WWE legend appeared in the "Ric Flair Drip" music video alongside the fellas and 21 Savage. Last year, Offset even received a $70,000 Ric Flair chain for his birthday.
Watch Offset take the stage with Ric Flair for his performance of "Ric Flair Drip" in the video below.
Check Out the 2018 Hip-Hop Music Festivals You Need to See