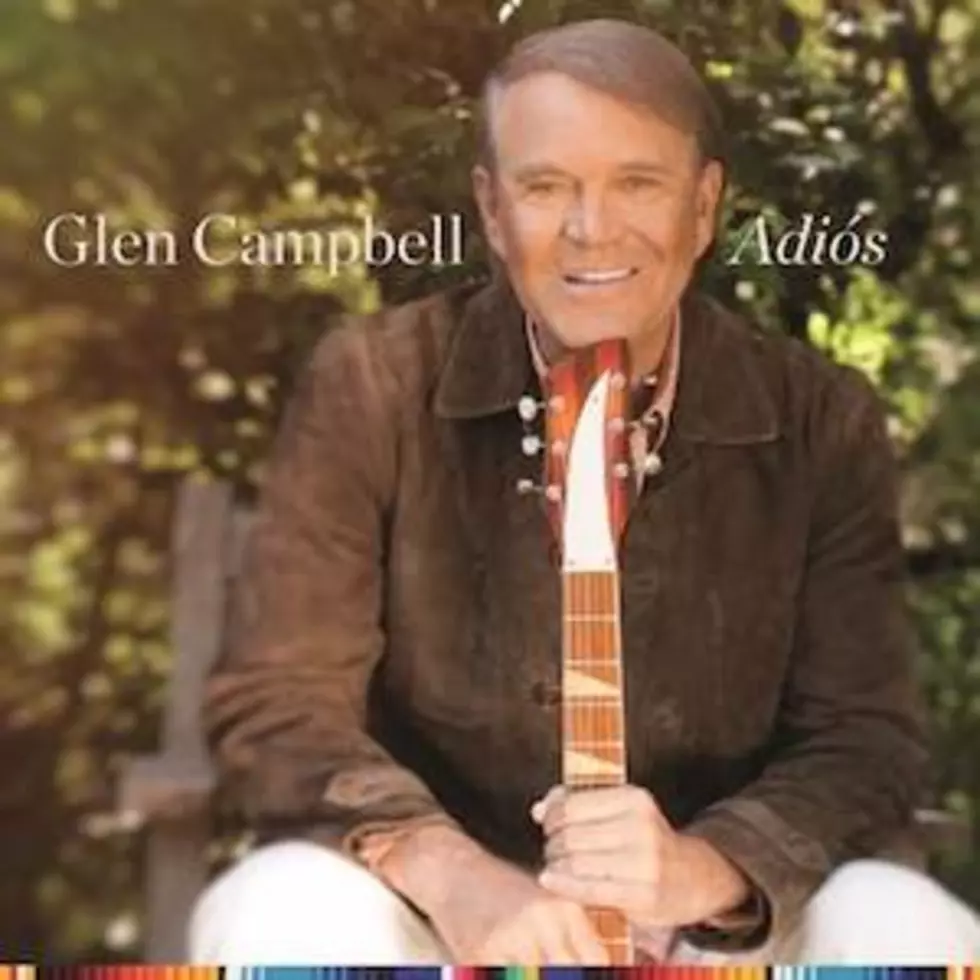 Album of the Month (June 2017): Glen Campbell, 'Adios'
Courtesy of UMe
On June 9, Glen Campbell's final album, Adios, will be released. It's a special project -- Campbell recorded the disc shortly after being diagnosed with Alzheimer's disease and embarking on his Goodbye Tour -- so it's fitting that The Boot's readers have named Adios Album of the Month for June 2017.
Campbell -- who is now in the advanced stages Alzheimer's -- recorded Adios in Nashville. Campbell's wife Kim wrote the record's heartfelt liner notes, in which she describes how the project was inspired by an afternoon spent with Campbell's longtime banjo player, Carl Jackson (who, it's worth noting, set up the couple on their first date, more than 34 years ago).
"We reminisced about all of the songs that Glen had always wanted to record but had never gotten around to. Carl laid down some basic tracks and vocals for Glen to study and practice in preparation for his final session," Kim Campbell writes. She notes that her husband's diagnosis added a level of immediacy to the project: "Glen's abilities to play, sing and remember songs began to rapidly decline after his diagnosis in 2011. A feeling of urgency grew to get him into the studio one last time to capture what magic was left. It was now or never."
According to Kim Campbell, the making of Adiós was both "heartbreaking" and "beautiful." Glen Campbell's early struggles with dementia caused him to forget the words to songs that he had performed for his entire career, leading Jackson to "[hold] up sheets of paper with large print lyrics and [feed] them to him one line at a time;" still, the "Rhinestone Cowboy" singer was "clearly ecstatic about being in the studio."
In order to give Campbell's final album "polish and charm," fellow country icons such as Willie Nelson and Vince Gill lend their talents to the disc, as did Campbell's children Ashley, Shannon and Cal, all of whom added backing vocals.
A Look Back at Glen Campbell's Career
"All of the laughing, crying (we laughed much more than we cried!) and singing were certainly bittersweet, but more than worthwhile when listening back to the finished album today," Kim Campbell writes. "What you're hearing … is the beautiful and loving culmination of friends and family doing their very best for the man who inspired, raised and entertained them for decades — giving him the chance to say one last goodbye to his fans."
In advance of Adios' release, fans have been able to hear its title track and Glen Campbell's version of "Everybody's Talkin'." Campbell's 64th and final studio album, the record also includes his takes on "Don't Think Twice It's All Right" by Bob Dylan and "A Thing Called Love," written by Jerry Reed and recorded by Johnny Cash; additionally, Gill adds his signature harmonies on a cover of Roger Miller's "Am I All Alone (or Is It Only Me)," while Nelson joins Campbell for a touching duet on his 1968 song "Funny (How Time Slips Away)."
Adiós was produced by Jackson and is being released via UMe. It is currently available for pre-order on Amazon and iTunes.
Glen Campbell, Adiós Track Listing:
1. "Everybody's Talkin'"
2. "Just Like Always"
3. "Funny (How Time Slips Away)" (feat. Willie Nelson)
4. "Arkansas Farmboy"
5. "Am I All Alone (or Is It Only Me)" (intro by Roger Miller)
6. "Am I All Alone (or Is It Only Me)" (feat. Vince Gill)
7. "It Won't Bring Her Back"
8. "Don't Think Twice, It's All Right"
9. "She Thinks I Still Care"
10. "Postcard From Paris"
11. "A Thing Called Love"
12. "Adiós"
More of 2017's New Releases