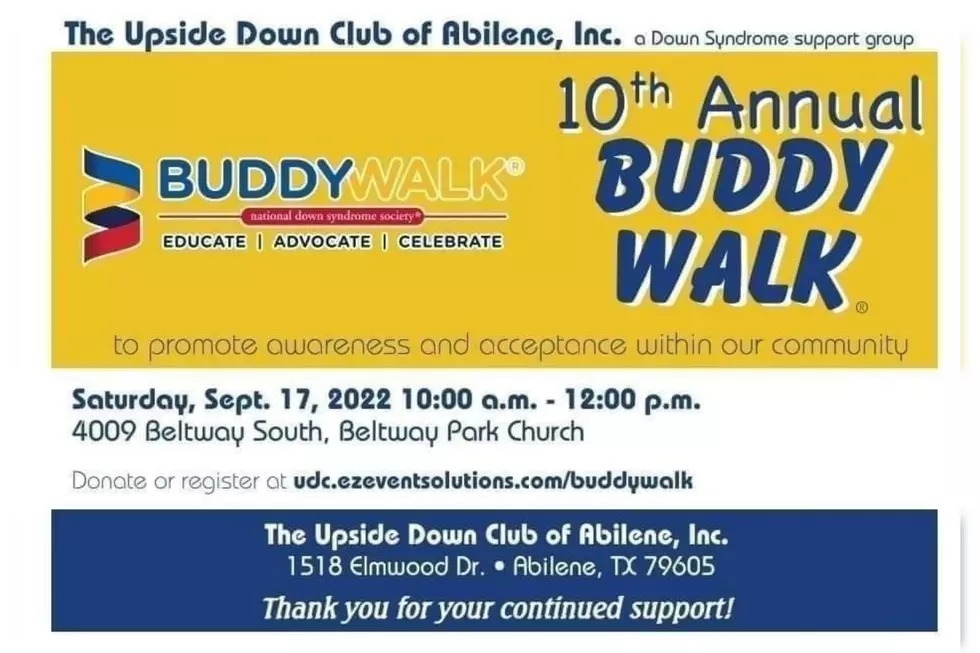 Get Ready for the 10th Annual Buddy Walk Set for Saturday, September 17th
Photo: The Upside Down Club of Abilene
Get your best walking shoes ready. The 10th Annual Buddy Walk is coming to Abilene on September 17th conducted by The Upside Down Club.
The Upside Down Club was started as a reach out to those families who have a loved one with Downs syndrome. Its mission is to promote awareness and acceptance of those in our community with Downs syndrome. Monthly get-togethers and events are held with one such being the annual Buddy Walk each September.
Buddy Walks were started in the 90s by the National Down Syndrome Society and they've been going strong since. It's a great way to bring the community together for fun. Come enjoy free activities such as jump inflatables, knockerball, face painting, and a photo booth. May petting zoo will on hand with pony rides, hay rides, and train rides, and there will even be a live DJ playing music.
---
Families gather together in celebration of their loved ones.
Loved ones with Downs syndrome will also be announced, brought up on stage, and honored with a medal. Then, a short walk begins around the perimeter of the parking lot.
It's always a great time with something for the whole family to enjoy.
When: Saturday, September 17th from 10 AM till noon.
Where: the parking lot at Beltway South Church (4009 Beltway South)
The event is free and open to the public.
CHECK OUT ALL THESE AWESOME CARS FROM PAST CRUISE NIGHTS