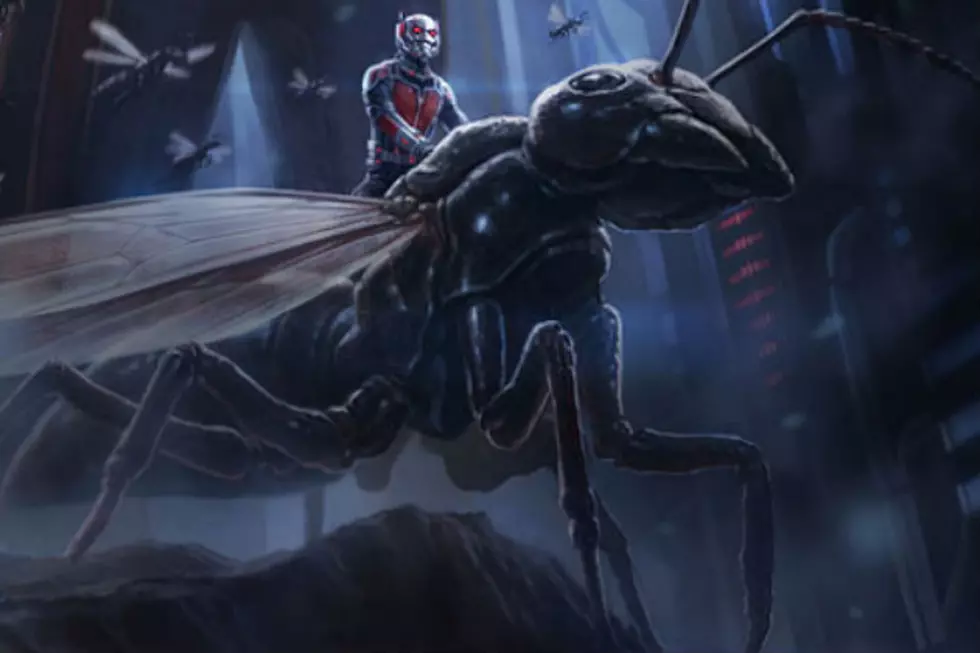 Comic-Con 2014: 'Ant-Man' Panel Clears Up Character Confusion
Marvel/Entertainment Weekly
Marvel's upcoming 'Ant-Man' has certainly been through its share of upheavals since the departure of original director Edgar Wright (even yesterday, things were a-changing for the miniature hero and his long-awaited film), but now it's time for the Peyton Reed-directed feature to really wow at Comic-Con 2014's Hall H as part of the official Marvel panel.
Gracing the stage during the Marvel section of the Saturday night festivities were director Reed and stars Paul Rudd (Ant-Man), and Michael Douglas (Hank Pym), Evangeline Lilly (Hope van Dyne, aka Wasp), and Corey Stoll (Yellowjacket. What did they have to share with their fans?
Energy was the name of the game before the panel got rolling, with an anxious audience already clapping for the panel before it even kicked off. One possible reason? Visible nameplates, ones that indicated that 'Ant-Man' would be up first. The crowd couldn't seem to contain themselves as the panel's official start time came and went without incident, intermittently chanting "WE WANT MARVEL" as the lights still stayed up and the minutes stretched on.
After a near-twenty minute delay, the panel finally kicked off with a massive montage of clips showing off the Marvel films of the past, meant to both get fans up to speed on everything that has happened so far (read: a lot) and get them pumped for the future. It was even set to the score from 'Rudy,' to drive home that winning feel. The montage ended with 'Guardians of the Galaxy' footage, although the very last shot was one of Thanos (interesting) from a 'Guardians of the Galaxy' scene.
Marvel Studios president Kevin Feige then hit the stage to chat up 'Guardians of the Galaxy,' which opens next week, before moving into talk about 'Captain America 2: The Winter Soldier,' and basically thanking the Marvel fans for all they've done. And then it was time to really get this show on the road, with the 'Ant-Man' cast finally (finally!) taking the stage.
Reed was greeted with tepid response -- perhaps the best he could hope for at this point, though he's likely hit the stage hoping to change that -- while the cast, especially Rudd and Douglas, were greeted quite positively. Almost immediately, two big questions were answered: just who are Lilly and Stoll playing? Lilly is set to play Hope van Dyne (yes, Wasp) and Stoll is set as Yellowjacket. It's Ant-mania!
Star Rudd, who was attending his first Comic-Con, commented, "I've been doing this job for awhile, but this is a whole other thing." Host Chris Hardwick couldn't escape a joke when it came to Douglas, also a Comic-Con newbie: ""We are popping your cherry." Douglas, not one to miss a beat, laughed back, "I've popped enough cherries." Banter! It's what your 'Ant-Man' needs.
Douglas, it seems, is getting fluent with the gig, as he ran down the history of Ant-Man before classifying this new feature as "a heist film." Lilly was a bit more reticent, and when she was asked to share her experience so far, she commented, "My experience so far has been evading the press." For Lilly, tonight was one hell of a coming out party, even if she's had plenty of Hall H experience with her work on 'LOST.'
Queries were soon thrown to Stoll, who described his character as being "Hank Pym's mentee." Now, he's in charge, and as the actor explains, "I've taken over the company. Some judgmental people think it's in an evil direction." Oh, intriguing!
The film has not yet started shooting -- that will commence on August 18th in Georgia -- but that doesn't mean that Team Ant-Man didn't bring a little something with them to the panel (of course they did!). The footage shown starts out in a laboratory, with beakers galore scattered about. Douglas and Rudd bicker with each other in voiceover. Douglas' Pym is ribbing Rudd big time, and comments, "sounds like someone shrunk your balls" before cutting to Rudd in, yes, the Ant-Man suit. As Ant-Man, Rudd tries to tap into his ant powers, by riding an ant, who is having none of it. Egged on by Douglas speaking at him over a headset, Rudd jumps off a building...and on to a flying ant. And...scene.
'Ant-Man' will hit theaters on July 17, 2015.