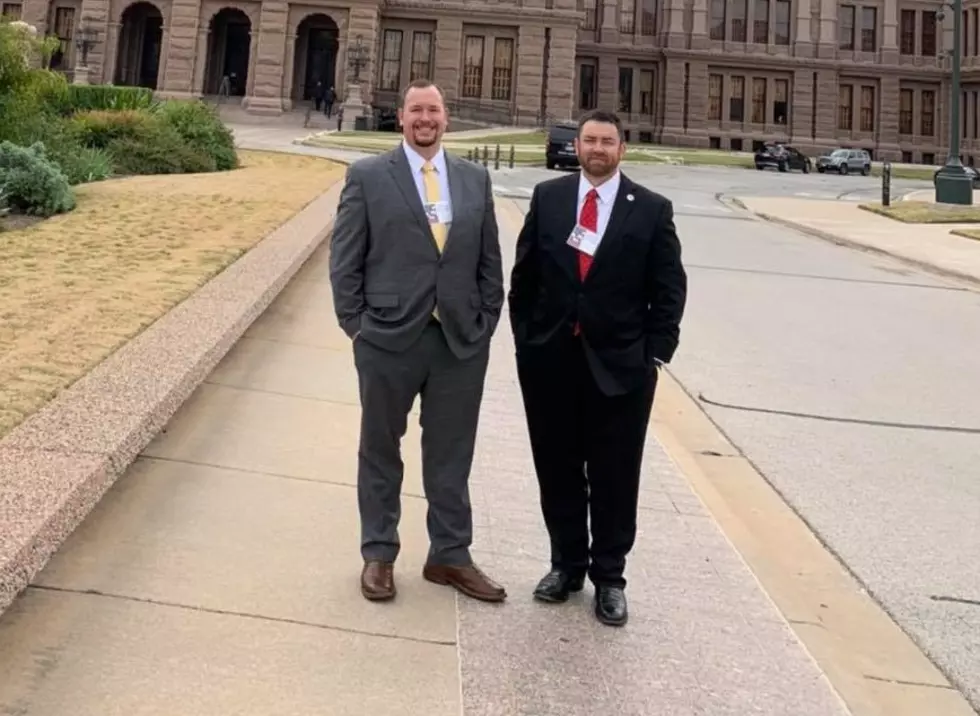 Lubbock County Man Casts Electoral Vote for President Donald Trump
David Bruegel & Steve Evans (Lubbock County Republican Party, Facebook)
Monday, members of the Electoral College met at the 50 state capitols, and in Washington, D.C.
In Texas, the 38 electors were people selected earlier this year by the Republican Party of Texas, due to President Trump's win the November general election.
David Bruegel, from Shallowater (pictured, left, in the above photo with Texas SREC member Steve Evans), served as the elector for the 19th Congressional District, which includes Lubbock, Big Spring and Abilene. Bruegel has served on the Shallowater City Council and he's been an active member of the Lubbock County Republican Party.
Bruegel cast his presidential vote for Donald Trump and his vice presidential vote for Mike Pence. Both Trump and Pence received all 38 electoral votes from Texas.
In a change from the past few previous presidential elections, there were no faithless electors on Monday.
The Democratic Joe Biden- Kamala Harris ticket received 306 electoral votes and the President Trump- Vice President Mike Pence ticket receive 232 electoral votes.
Biden, who has already been referring to himself as President-elect, has one more hurdle before Inauguration Day on January 20, 2021: a joint session of Congress will meet on January 6, 2021 to canvass the electoral votes.
While there is a mechanism in place that would allow the electoral votes from a specific state, or a group of states, to be contested, it is a rare occurrence.
For an objection to even be heard, the chair of the joint session of Congress, in this case the Vice President, has to recognize members from both the House and Senate, who have the same objection.
For example, in January 2017, when the 2016 Electoral College votes were canvassed, Texas Congresswoman Sheila Jackson Lee and California Congresswoman Maxine Waters both attempted to present a letter objecting to the electoral college votes from Wisconsin. However, as then-Vice President Biden ruled, their letter of objection was invalid since it didn't have the signature of a sitting U.S. Senator. You can see this play out in the below video at the 36:35 and 37:40 marks.
Enter your number to get our free mobile app