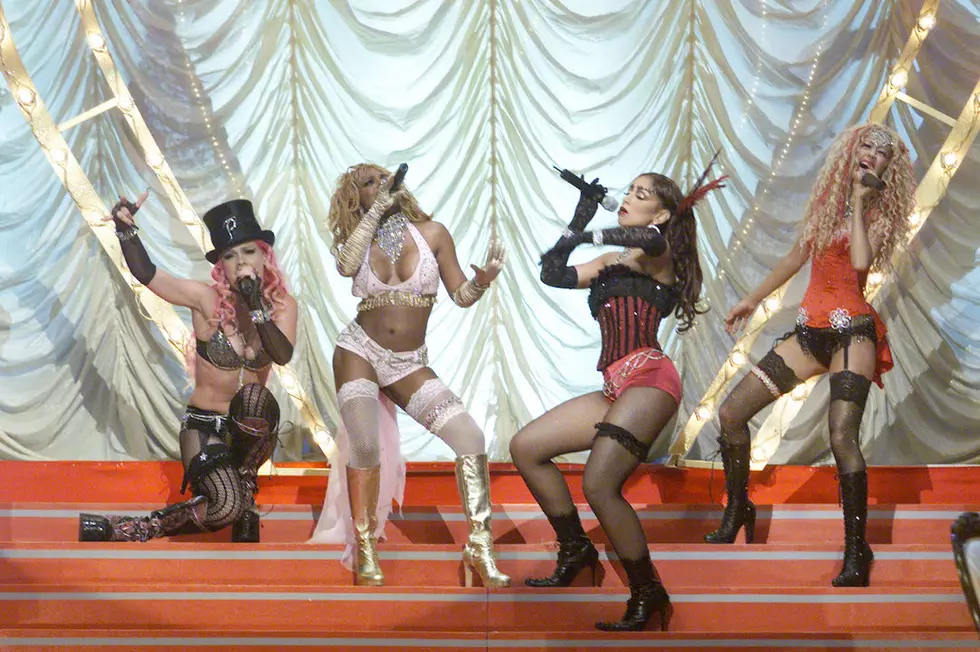 Lady Marmalade, 15 Years Later: The Triumph of Pop Diva Solidarity
Getty Images
It's been exactly fifteen years since Christina Aguilera, Lil Kim, Mya and Pink performed their Missy Elliott and Rockwilder co-produced "Lady Marmalade" cover at the 2001 MTV Movie Awards. To say that revisiting the clip finds each performer "at the top of their game" would be to suggest it was all downhill from there — a statement the artists and their fans would likely take issue with — but the moment cemented the song's record-setting chart success, and remains far more memorable than Moulin Rouge!, the Baz Luhrmann movie it was recorded for.
The performance, which essentially recreated the Paul Hunter-directed music video, is iconic for reasons beyond the song's rock-tinged reinvention. Sure, their outfits were sexy, in a way that served as anachronistic promo for Luhrmann's only-slightly-less-anachronistic film. Scantily dressed in fishnets, teddies and early-aughts metallics with hair and makeup turned up to 11(thousand), the artists' ensembles embodied "burlesque" in every definition of the word: It was both a pulse-raising performance and a comically exaggerated imitation of one.
By design, both the song and its staging were a veritable parade of Top 40 queens, and each got their due as they filed out through the heart-shaped lights — first Mya with her authoritative riding crop, then Pink (remember pre-aerial silks Pink?), followed by Lil Kim rapping in baby-pink bedazzled lingerie and finally, Christina Aguilera and her gale-force voice. It's hard not to notice that Xtina makes the biggest entrance and happens to be wearing a very tiara-esque headpiece, and the fact that this was allegedly Team Xtina's intent from the jump was the flashpoint for a years-long feud with Pink.
"[A&R exec] Ron Fair walked in. He didn't say 'Hi' to any of us and said, 'What's the high part? What's the most singing part? Christina is going to take that part,'" Pink recounted in a 2009 episode of VH1's Behind the Music. "And I stood up and said, 'Hi! How are you? So nice of you to introduce yourself. I'm Pink. She will not be taking that part — I think that's what the f—-n meeting is about.'"
While there seems to be no love lost between Pink and Aguilera, the fact that a male record exec incited the conflict is often overlooked in fan board lore that favors a "diva" narrative in which only one can be queen and hopefuls bitterly jostle for top status. In 2016, this undying notion — that relations between female pop stars are perpetually couched in rivalry, shade and envy — is frequently unpacked on #staywoke Twitter and by both sites including this one and the stars themselves. But back in 2001, the concept of four strong, talented solo-act women standing shoulder-to-shoulder/garter-to-garter with each other for a knockout performance was, lamentably, mind-blowing. It also boosted the song's unprecedented achievements.
Click through the gallery above to learn more about "Lady Marmalade" and its impact.