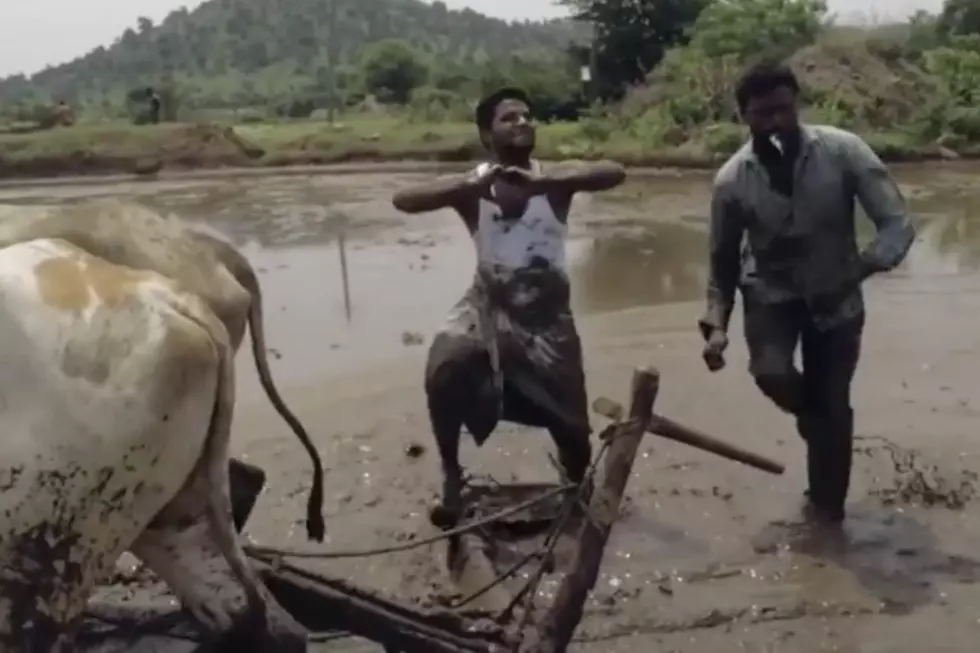 Farmers in India Do Drake's "In My Feelings" Challenge
myvillageshow via Instagram
If there was any doubt Drake's "In My Feelings" is the song of the summer, we present to you footage of farmers in southern India doing the Shiggy while stewarding their cows through a pond.
The clip comes from Sriram Srikanth, a vlogger based in the Indian state of Telangana. Srikanth documents life in his village of Lambadipally, covering everything from local elections and cricket drama to how elders react to fads like fidget spinners. His YouTube page has over 492,000 subscribers.
Srikanth posted an Instagram video on Wednesday (Aug. 1) of two villagers dancing to Drake's chart-topping Scorpion track, which received an official video last week. As in dance creator Shiggy's original clip, the locals step away from their vehicle, in this case a bullock cart, and begin pantomiming the song's lyrics while jigging around in the water.
The clip was subsequently covered on BBC World News, introduced by a desk anchor who describes the footage as "really splendid." In discussing the challenge's spread across India, reporter Devina Gupta also notes concerns, shared stateside by the National Transportation Safety Board, about the dangers of dancing in streets.
Fans have been struck by cars and fractured skulls in their attempts to participate in the viral phenomenon. "Hopping out of a moving vehicle or jumping into lanes of traffic to show your dance moves is foolish and dangerous," the NTSB helpfully reminded the public.
Thankfully, there isn't much traffic in Lambadipally. You can watch the village's take on Drake's "In My Feelings" challenge below.
See Photos of Drake's Different Looks Over the Years