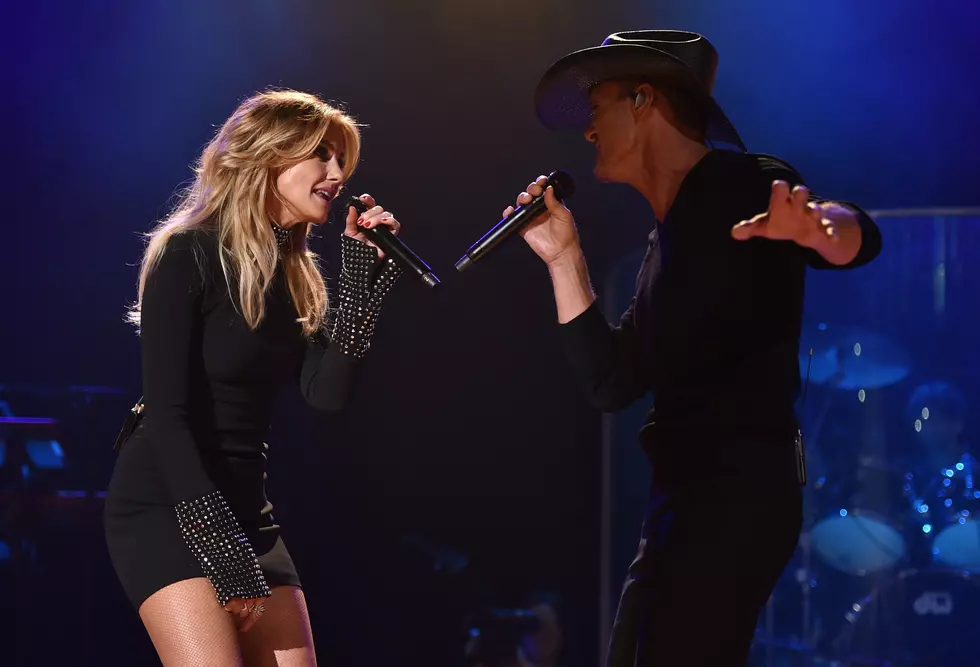 Faith Hill After Tim McGraw's Onstage Collapse in Dublin: 'Drink Water, People!'
John Shearer, Getty Images
After her husband, Tim McGraw, collapsed onstage in Dublin, Ireland, on Sunday night (March 11), Faith Hill was tasked with informing the audience about what had happened. Readers can press play above to watch the country star and her band address the crowd, the members of which responded classily.
"So, Tim is fine," Hill told the audience, which cheered loudly at the news, following a 20-minute break in the show. "We've all been a little bit dehydrated, traveling so much, and he's been super dehydrated, and I apologize, but I made the decision that he cannot come back out onstage.
"So drink water, people!" Hill admonished the fans. "Always keep yourself hydrated."
As Hill concluded her remarks, the crowd broke into a "We love Tim!" chant. Hill and her band then performed a gospel song, "What a Friend We Have in Jesus," and ended the set.
McGraw and Hill spent the weekend (March 9-11) performing as part of the Country to Country Festival in the United Kingdom; they headlined in London, England, on Friday night (March 9), Glasgow, Scotland, on Saturday night (March 10), and Dublin on Sunday night. McGraw had just finished performing his song "Humble and Kind" during his co-headlining set with Hill when he dropped to his knees, then sat down onstage and needed assistance getting up and offstage.
"When a spotlight was switched on him, he was slumped on his knees on the lefthand side of the stage," Del Crooks, a member of the audience, tells the BBC. "The light was quickly turned off, and you could see his crew helping him off -- and the band ran over as well."
A representative for McGraw tells Rolling Stone that McGraw was "suffering from dehydration."
"He was attended to by local medical staff on-site and will be fine," the statement continues. "He and Faith thank everyone for their love and support and look forward to seeing their Irish fans again soon."
McGraw and Hill spent much of 2017 out on the road on their co-headlining Soul2Soul Tour, in support of their duets album, The Rest of Our Life, released late last year. In May, they will begin a 2018 leg of the trek, currently scheduled to run through late July.
Faith Hill + Tim McGraw's Relationship in Pictures
Unforgettable Tim McGraw + Faith Hill Moments