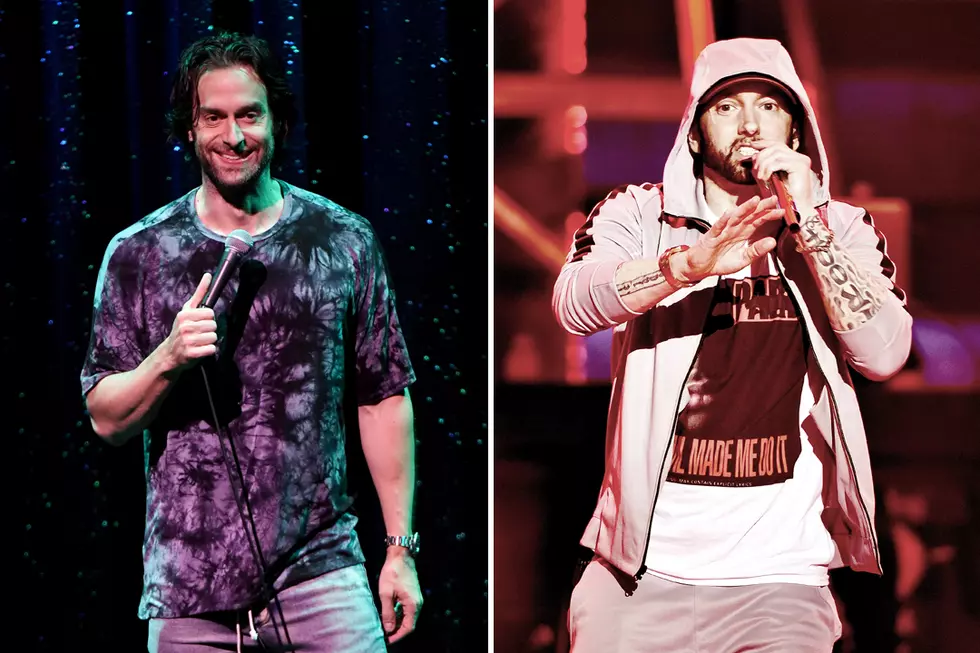 Comedian Chris D'Elia Impersonates Eminem in Hilarious Freestyle
Ethan Miller/C Flanigan , Getty Images (2)
Eminem has been a hot topic this week after unloading his surprise album Kamikaze last Friday (Aug. 31). It seems his influence has now permeated the comedic circle, as comedian Chris D'Elia took it a step further and impersonated the Detroit MC in an Instagram post that has since gone viral.
D'Elia has amassed millions of views across social media after uploading a video of himself mimicking the "Fall" lyricist's rapping style. "Look what I'm plannin', plannin'/I'm plannin' to do all this while you're panicking/And you're lookin' and starin' at mannequins," he jokingly delivers to the approval of hip-hop fans. Some bars are indecipherable as he creates new words in order to keep up the rhymes.
"Rare footage of @eminem in the studio recording his album #kamikaze wow 🔥," D'Elia wrote in his Instagram caption.
In another clip from his Congratulations podcast, the comic shares his thoughts on the now-vicious beef between Eminem and Machine Gun Kelly, who responded to Em's slight on his jaw-dropping response, "Rap Devil." "About these diss tracks that rappers make and shit, it seems like if you make a diss track, like, you're hurt," Chris reasons. "You're upset and your whining."
"I know you don't know about me, you better go ask some niggas close to you, I live for this type of shit," he tells Em. "All of that rappity-rap, lyrical miracle bullshit, any nigga that want it like that, that think they want it with me? I don't think you would fare well."
Watch Chris D'Elia's hilarious impersonation of Eminem below.
See Hip-Hop Fans Name The Most Disrespectful Diss Track of All Time