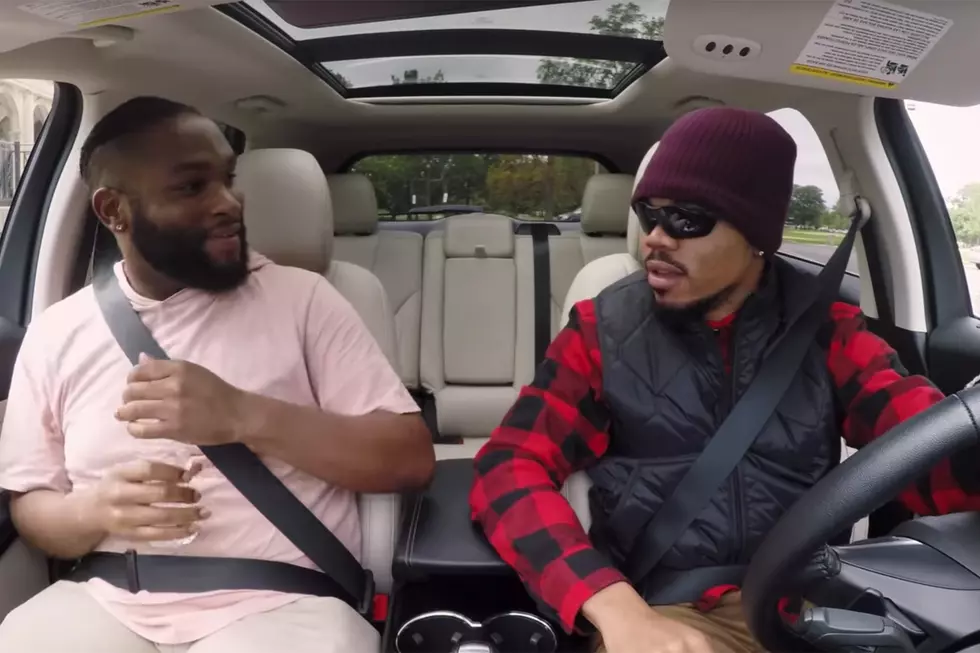 Chance The Rapper Goes Undercover as Lyft Driver to Fundraise for Chicago Public Schools
Lyft via YouTube
Chance The Rapper continues doing his part, taking some pretty drastic measures to do so. Today (Oct. 15), the Chicago rapper appeared in a hilarious new video in order to spearhead Lyft's new Undercover Lyft campaign, which is a new initiative to raise funds for Chicago Public Schools. Let's just say Chance lives up to the name of Lyft's new program.
For the video, Chano, who donated $1 million to Chicago Public Schools last year, drives some unsuspecting Lyft passengers as he offers up some hearty small talk and teases his actual identity. While some folks catch on, the majority are left with the impression that "John" is just a happy-go-lucky driver.
At the very beginning of the video, one passenger seemingly catches on to Chance's act. After letting off a shocked facial expression and introducing himself, a passenger asks Chano a simple question: "Do you know who you are?"
From there, we see Chance driving about Chicago while letting loose some clues about his identity. At one point, he even uses one of his lyrics to do so.
"I'm only 25, but I bet I get a statue in my hometown when I die," Chance casually tells a passenger, referencing his song "I Might Need Security." When she asks him what the statue would be for, he says, "For this driving." Got 'em.
The Undercover Lyft campaign promotes the driving service's Round Up & Donate feature, which allows passengers to donate to charities. If passengers want to donate to the CPS, they can do so by selecting the New Chance Fund—which is a fund Chance created to help support Chicago Public Schools—in the "cause" section of Lyft's Round Up & Donate section.
See Photos of Chance The Rapper's Different Looks Over the Years