Kevin Spacey Accused of Sexually Assaulting Richard Dreyfuss' Son as Sony Considers 'All the Money in the World' Delay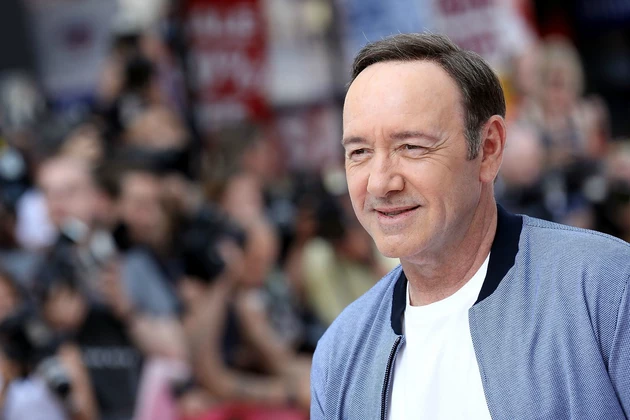 Following his suspension from Netflix in the wake of a growing number of sexual assault and harassment allegations, Kevin Spacey has found himself at the center of another damning accusation. Harry Dreyfuss, son of actor Richard Dreyfuss, says he was also sexually assaulted by the Oscar-winning actor. The latest allegation has come to light just as a new report reveals that Sony may cancel its upcoming premiere of Ridley Scott's All the Money in the World and potentially move the film, which stars Spacey, out of awards season altogether.
Last week, Netflix officially suspended (read: fired) Spacey and halted production on the sixth season of House of Cards. As reports suggest that the streaming giant is contemplating killing off Spacey's character on the series, a new allegation has surfaced. Writing for BuzzFeed, Harry Dreyfuss recounts visiting London in 2008 with his father, the acclaimed actor Richard Dreyfuss, who was starring in the play Complicit, directed by Spacey (at the time, Spacey was the artistic director of the Old Vic theatre).
According to Dreyfuss, who was 18 at the time, "It happened one night when the three of us were alone in Kevin's apartment rehearsing my father's lines." Dreyfuss recalls Spacey as a "sexual predator" who felt "safe" to abuse him because he knew Dreyfuss "wouldn't say a word." While Richard Dreyfuss rehearsed his lines, Harry says that Spacey began placing his hand on his thigh; when he switched to a different seat in the room, Spacey followed, touched his thigh again, and subsequently groped his crotch.
It just never occurred to me that Kevin would be interested in me in the first place. He was an adult man, a hero of mine, my dad's boss, none of which were categories on my radar for sexual interactions. Besides, I thought, surely he can't be coming on to me like this right in front of my dad.
Dreyfuss adds that Richard did not witness the incident as he was "deeply focused on his script," and he did not tell his father about it for "many years." Richard Dreyfuss says he learned of the alleged sexual misconduct about four or five years later. Earlier today, the actor tweeted out support for his son:
I love my son @harrydreyfuss more than I could explain with all the words in the world. And I am so incredibly proud of him right now. https://t.co/iLOxTxPe4n

— Richard Dreyfuss (@RichardDreyfuss) November 5, 2017
Harry Dreyfuss is the latest to accuse Kevin Spacey of sexual misconduct, and joins a growing number of men who allege that the actor harassed or assaulted them in years past. Star Trek Discovery's Anthony Rapp was the first to come forward, claiming that Spacey behaved inappropriately with him when he was a teen. Since then, several more have come forward with allegations, including eight employees from House of Cards.
This afternoon, Variety reports that Sony is mulling a delay of All the Money in the World, which is scheduled to premiere next week at AFI Fest. Director and producer Ridley Scott is said to be urging the studio to cancel the November 16 premiere of the film, while Sony considers delaying the December 22 release of their awards contender. In the film, which follows the notorious Getty kidnapping case, an almost-unrecognizable Spacey plays billionaire J. Paul Getty, who famously refused to meet the ransom demands of his grandson's captors.
Sony, which previously nixed an intended awards season campaign for Spacey, may push the film back to June 2018. Despite Ridley Scott's protestations, other producers are reportedly insisting that Sony continue with the December 22 release as planned.

Source:
Kevin Spacey Accused of Sexually Assaulting Richard Dreyfuss' Son as Sony Considers 'All the Money in the World' Delay